SPAM
How to handle unwanted mail.
Anti-Spam tools:
Popfile
Outlook 2003
Mozilla
Eudora
Popfile (works with any mail client)

Outlook 2003

Mozilla >1.4 or Netscape >7.1

Eudora

Not available in the free edition.





One of the best features about Thunderbird is the spam (junk) mail filter. Thunderbird has a built-in filter which can be adjusted and tuned in for your own pleasure. You may need to spend a week or two training it what's spam and what's not spam, but it will be worth it. :)
The first you need to do is localize the settings panel for the spam filter, if you go Tools > Junk Mail Control you should get this window: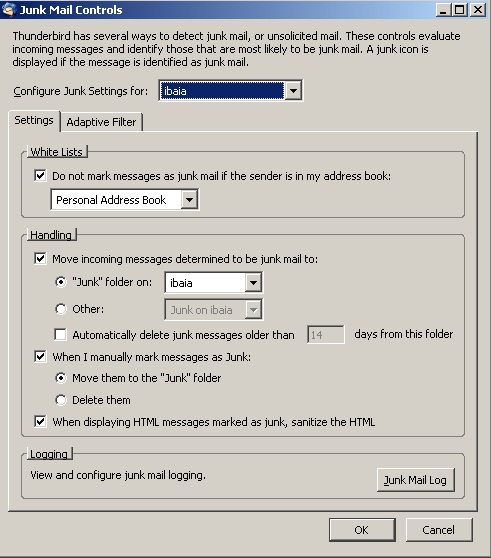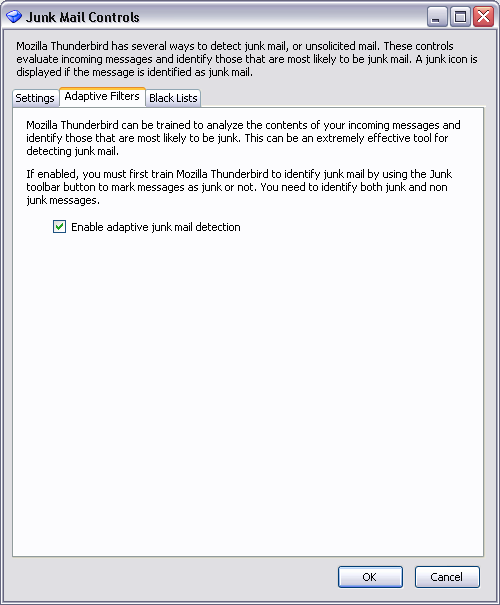 In the top of the first screenshot you can choose which account these settings will apply for, as some accounts require their own filter settings. In the second screenshot above you see the junk controls are turned off by default, so the first thing you want to do is check the box which says "Enable junk mail controls."
The junk button

Now, Thunderbird uses something called "Bayesian filtering", in other words you need to teach the mail client what is spam, and what isn't. You can either highlight a mail message and press the junk button, or you can right click on a mail and mark as "Junk" or "Not junk". By checking and unchecking mail you're teaching Thunderbird which emails are spam. After a few weeks the client should be able to remove 99%+ of the spam that dumps into your inbox.
Images
Another trick for preventing spam is to disable remote images from loading. This ensures spammers cannot embed secret images in their e-mail and track you when you open them. Go to Tools > Settings > Advanced and disable "Loading of remote images", this will help alleviate your "Spam problem." :)